NEWS
2021.02.08
X-girl MEETS ROMY
【WEB LIMITED】X-girl × Romy SMOKY PANSY SHIRT \13,000(+TAX)
X-girl × Romy NEON LINE SOCKS \2,000(+TAX)
1) What made you decide to collaborate with X-girl?
I'm a big fan of X-girl, I'm fascinated by the history of the brand, and the connection to Kim Gordon who I really admire. I love that the clothes capture a feeling of the past and the future, they also feel genderless at times, which is something i'm always drawn to in clothes but can be hard to find.
2) Since when do you like X-girl? What made you to like X-girl?
I discovered X-girl by chance a few years ago when I was looking for clothes online, I had never heard of the brand before and as my band is called The xx, I loved that a lot of the clothes had the letter X on them. When I came to Tokyo on tour I visited the X-girl store in Harajuku and I loved the clothes so much, everything was so cool, it's rare for me that I like so many things in one store. I still wear a lot of the clothes I got that day. People often ask me about what I'm wearing because it's not so easy to get it over here in London.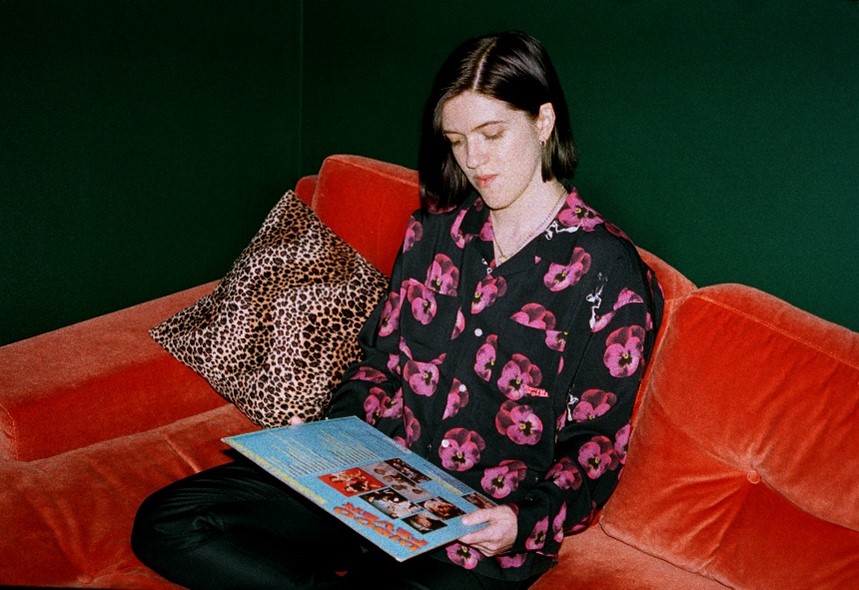 【WEB LIMITED】X-girl × Romy SMOKY PANSY SHIRT \13,000(+TAX)
3) Please let us know some episodes in the making the collaboration items.
I am so grateful to have this opportunity to create a capsule collection with X-girl, it's been so much fun. As I am in London and X-girl are based in Japan, we did everything long distance. I started off the collaboration by sending moodboards, they would send me designs based on my moodboards and we went back and forth. I was inspired by a few pieces from previous X-girl collections and they came up with some really cool new ideas too. I decided to go with a colour pallette of neon green and neon pink, which links into the colours I used on the artwork for my recent single "Lifetime" The text on the clothes "Emotional music to dance to" Is inspired by a playlist I made, a collection of some of my favourite music.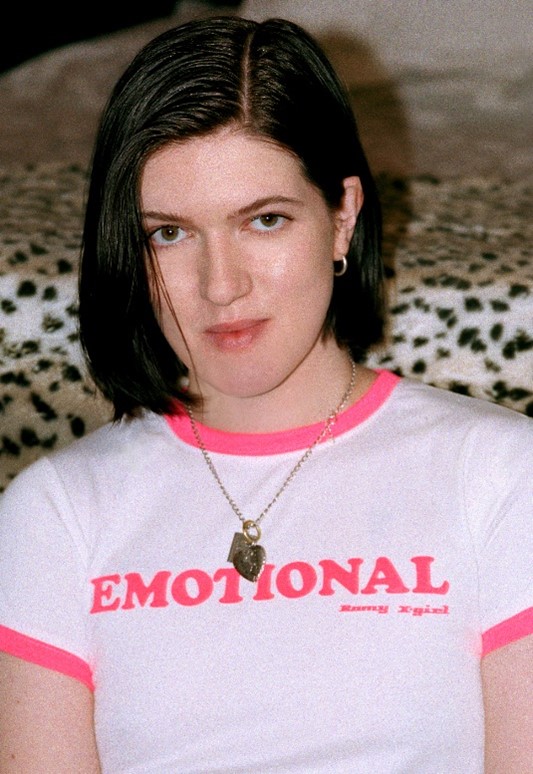 【WEB LIMITED】X-girl × Romy EMOTIONAL RINGER S/S TEE \5,500(+TAX)
4) I think you put a lot of effort in producing music work and collaboration items. Is there any specific parts of music and collab you considered important?
I love to put a lot of care and thought into everything I do, I try and put as much energy into the music as I do the artwork and collaborations. I am excited by clothes and have always enjoyed getting heavily involved in the artwork for our albums and the merch for tours I've done. I like keeping an attention to small details, I know as a fan I really appreciate it when I've seen other musicians I admire take care over things like merch, artwork and collaborations with brands.
X-girl × Romy DISC L/S TEE \6,500(+TAX)
5) Do you have any messages for X-girl fans?
Dear X-girl fans, I hope you enjoy this collaboration as much as I have enjoyed creating it. Hope to see you wearing the clothes soon!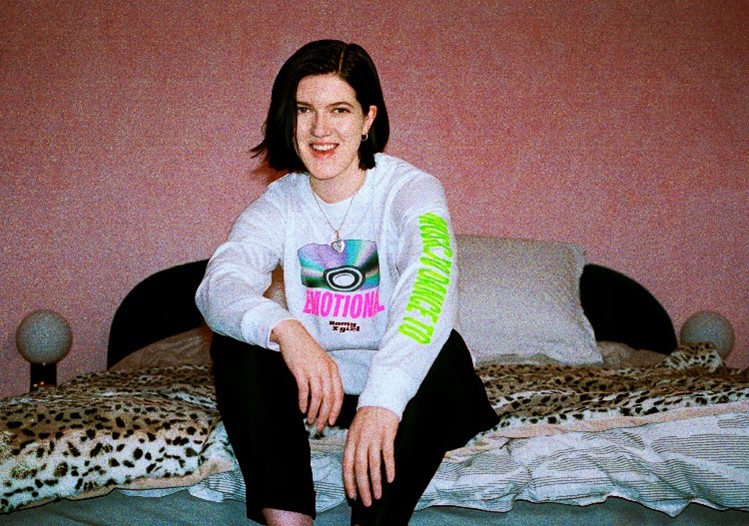 X-girl × Romy DISC L/S TEE \6,500(+TAX)
---