NEWS
2020.10.29
X-girl ×DR. MARTENS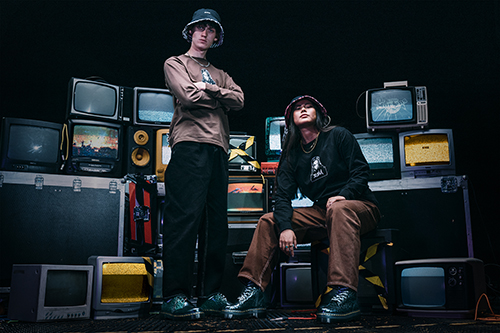 As a founding member of Sonic Youth and subversive style icon, Kim Gordon 'the godmother of grunge' defined a generation of teenage dressing, music and attitude in the 80s and 90s. As girls began to dress differently, for themselves and nobody else, our boots became a staple in this new empowered uniform.
In the summer of 1994, Kim co-created the X-Girl label with her friend Daisy von Furth as a response to the streetwear explosion of the early 90s. X-Girl pioneered the 'Girl's Movement' in the fashion industry — providing music and art-inspired pieces that Kim, Daisy and other girls would actually want to wear. 26 years on, not much has changed, but the label is now renowned around the world as a symbol of countercultural style. In the same way as a pair of DM's boots.
The brand's iconic 'face' logo was created by Mike Mills and modelled on one of his friends Michelle Rock Wood. The symbol appears prominently in the label's collections which, to this day, offer 'Real Girl's Clothing' — basic pieces inspired by rock music, military, outdoor sports and more. And sharing more than a bit of inspiration with Dr. Martens. The ranges are designed in LA and Japan, and available at affordable prices and in limited numbers.
With her grunge roots and disruptive approach to womenswear, Kim Gordon embodies the DM's spirit.
Our first-ever collaboration is a two-piece collection that celebrates the 'Girl's Movement' and 90s alternative style. Spanning statement platform boot and an elevated edition of our Original 3-eye shoe, it's made from debossed Docs Smooth leather with printed skater-inspired laces, a gunmetal dog tag and dual-branded sock liner as well as core
DM's markings.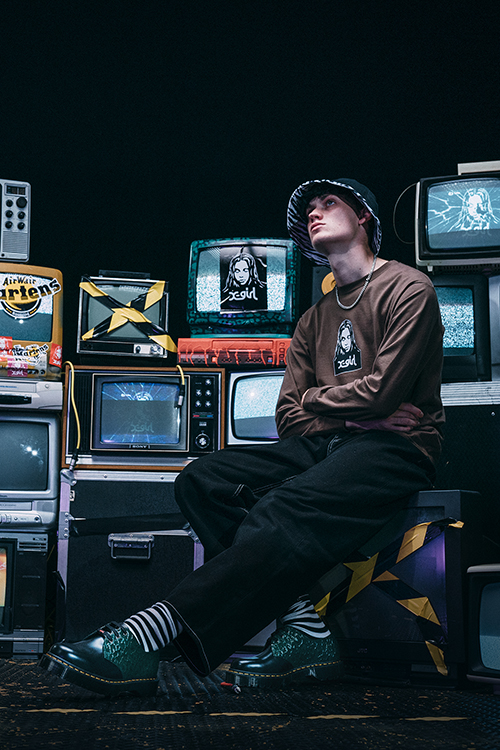 The 1461 shoe sits on our elevated Bex sole, and comes in two-tone black and green leather. Both the shoe and boot are
presented in bespoke X-Girl packing with a dual-branded label.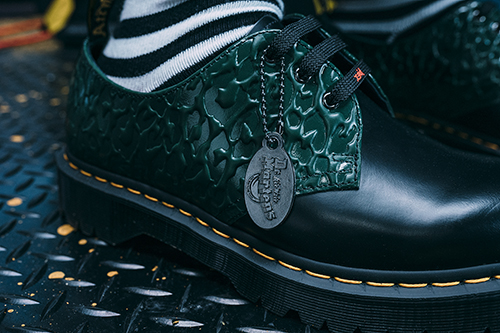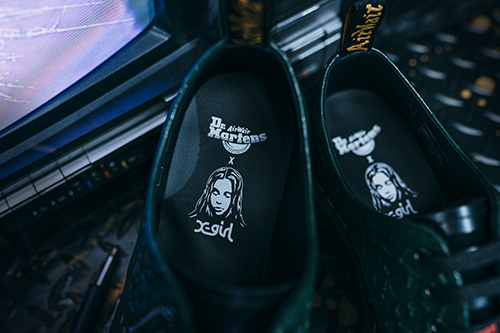 The black Jadon is an 8-eye boot based on the Original DM's silhouette but built on a stacked Quad platform.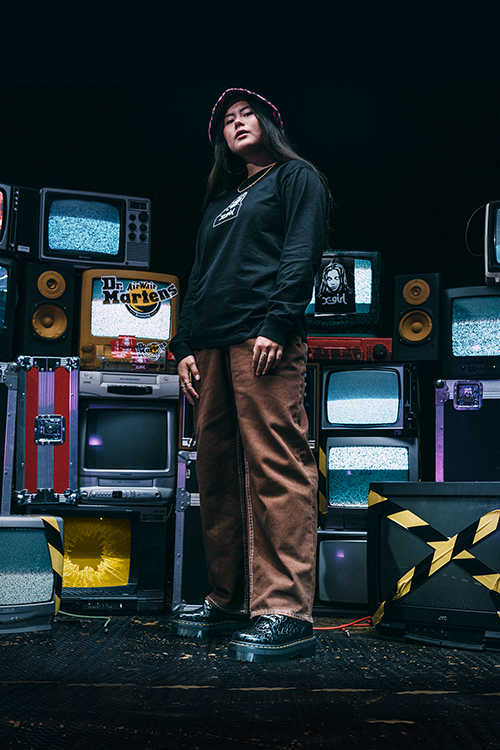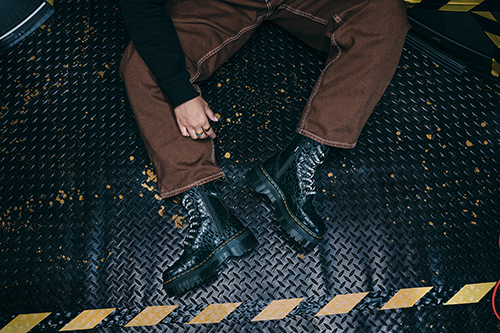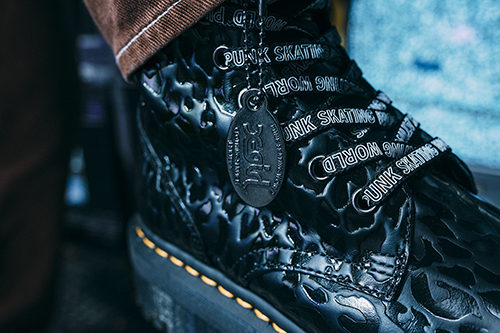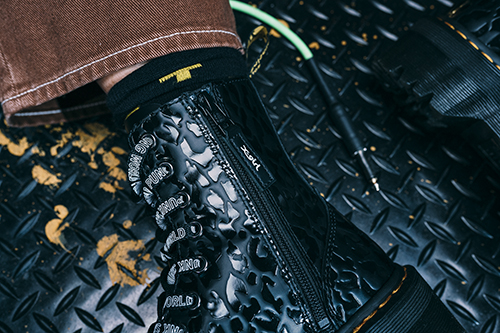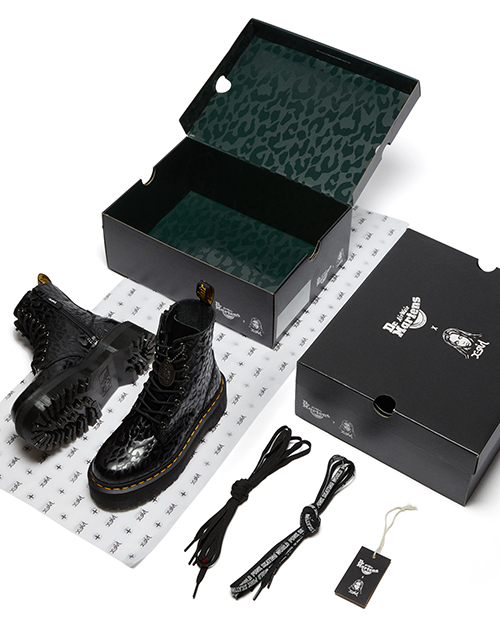 The collection is available from 20.11 at drmartens.com/collaborations/x-girl, X-girl Japan https://x-girl.jp/, and
selected partners
The first pair of Dr. Martens boots rolled off the production line on the 1st April 1960. With its trademark yellow stitch, grooved sole and heel-loop, it was a boot for workers, initially worn by postmen and policemen; comfortable, durable and lightweight in comparison to its competitors at the time.
Throughout Dr. Martens history, the brand has been adopted and subverted by diverse individuals, musicians, youth cultures and tribes. These are the people who stand out from the crowd and their journey of self-expression has always been accompanied by a pair of DM's.
The simple silhouette allows people to customise each pair; whilst on a utilitarian level their famous durability and comfort make them ideal footwear for the world of gigs and street fashion. On an emotional level, they are a flag of attitude and empowerment.
The Northamptonshire factory where it all began still exists to this day, in the village of Wollaston. A specific range of 'Made In England' products are manufactured here by a small, close-knit team of people schooled in traditional shoe-making and the unique process that makes Dr. Martens like no other shoe on earth.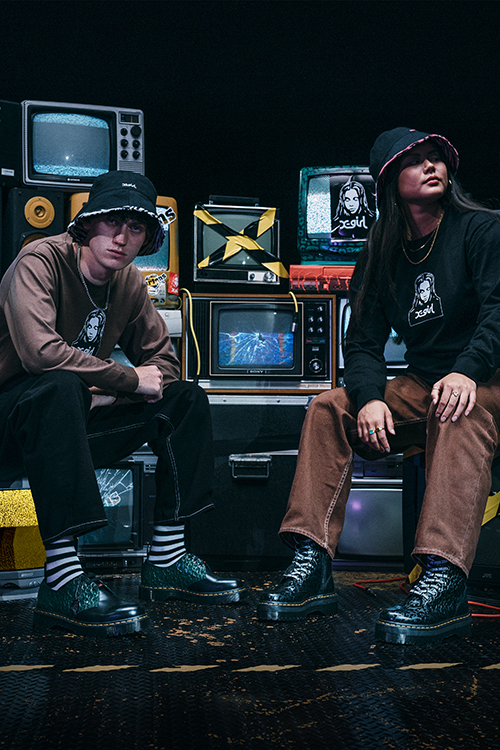 ---